The process of searching for a home has been a virtual experience for some time now, but what about selling your home?
We have been being asked the question, "Are people still buying and selling homes?" Yes, they are! The world has officially gone virtual in so many ways, but that doesn't mean your plans to list your home have to be put on hold. People still need to move, and most buyers are well versed in using technology to see and evaluate homes in a virtual way. For sellers, different challenges exist, so we have made a quick pivot to develop a process and virtual home selling guide to help our clients sell their home in the safest manner possible and in a way that fits their needs.
Let's start by taking a look at our Virtual Home Selling Process as a whole: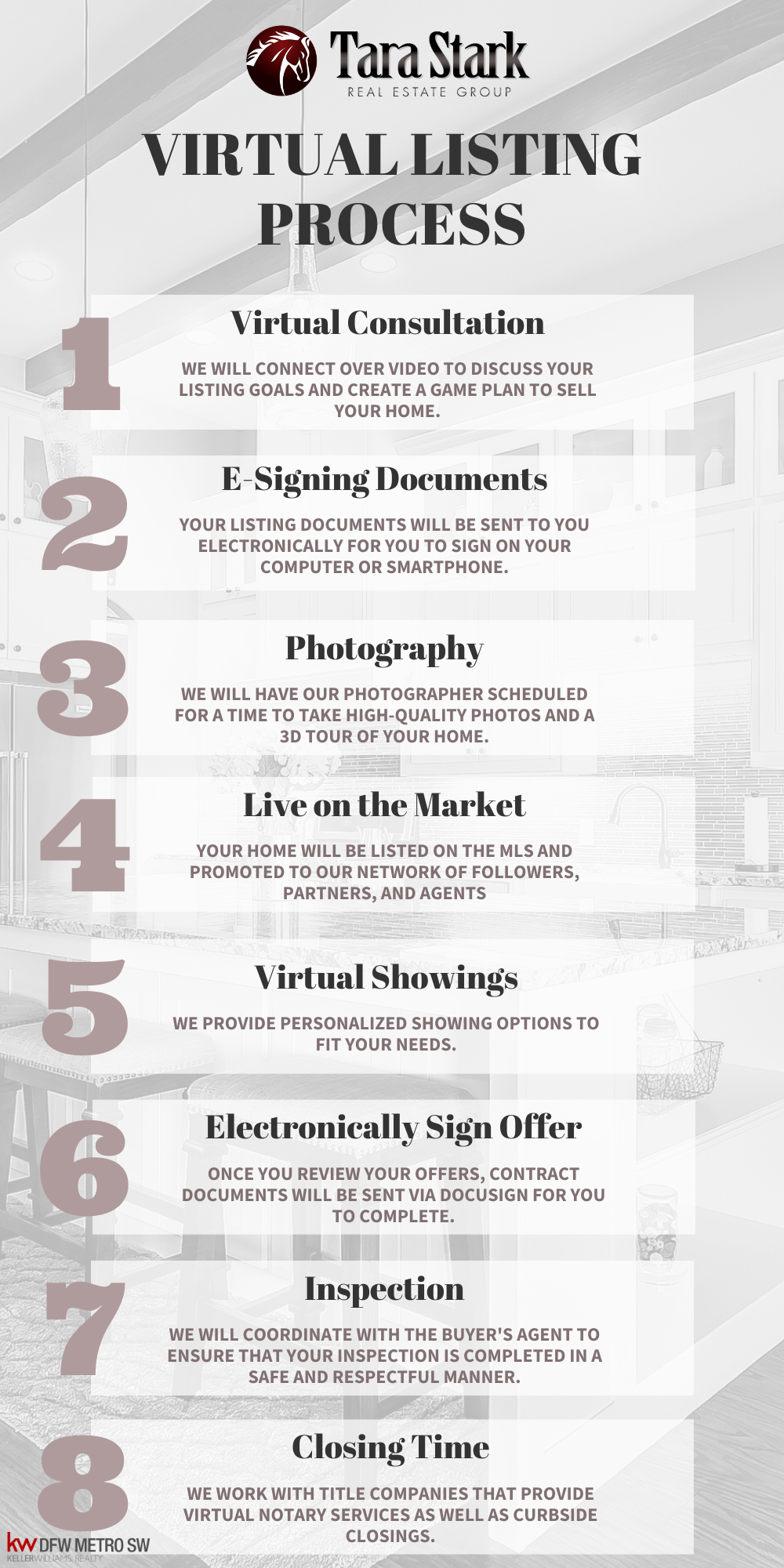 Now, let's break down each individual step in our Virtual Home Selling Guide:
Step 1: Virtual Consultation
Typically, we would come to your house for a listing consultation in order to see your property. In this case, we will meet over video conference, and let you be our virtual tour guide! The goal of this initial meeting will be for us to get to know one another and decide if we are a good fit to work together.
We will start by learning about you — your motivation to sell, your real estate goals, and the timeline for your plans. Similar to our buying process, our intent is to deliver a personalized experience that you can't imagine being better.
Next, we will ask for a video tour of your home. We will have already conducted research and run a comparative market analysis (CMA), but seeing the home is an important step in understanding the condition of the property and to know what features are going to stand out the most to potential buyers.
The final step of your consultation will be to talk through pricing for your home to best position it on the market and how we plan to market your listing to the world.
Once we have answered any additional questions you might have about the virtual listing process and how we will help you achieve your goals, we'll walk you through our listing agreement and associated business disclosures.
Step 2: E-Signing Documents
Your listing documents will be sent to you via our electronic signature site, DocuSign. With a simple click of a button on your computer or your smart phone you can review and sign your listing agreement within a matter of minutes. You will then have a copy of the executed documents emailed to you for your records.
Step 3: Photography
We will schedule a time for our photographer to visit your home that works best for you and the photographer. Once you are officially scheduled, we will send you a Home Photoshoot detailed checklist that will help you prepare for your photoshoot day. The photographer will be well versed in social distancing and prepared to photograph your home in a non-invasive way. This is an important step in which we will be sure to prioritize your safety and make sure your property is captured in the best way possible for its online presence.
Step 4: Live on the Market
In a virtual world, how your home is marketed is more important than ever. While many agents will simply list your home on MLS and hope for the best, we take a much more proactive approach. Once your home hits the market, it will be promoted on social media to our thousands of followers on a variety of networks. Posts are created for every milestone of the listing process, and your home is also featured on our website, and therefore broadcasted to the world.
Another perk of working with the Tara Stark Real Estate Group is our expansive network of agents, investors, and clients. Our agents make proactive calls on your behalf to these networks, ensuring your home has maximum visibility on the market.
Step 5: Virtual Showings
Showings are a part of the buying and selling process where we have had to get particularly creative. Your comfort and safety are our priority, so we have a few different options in place to help buyers evaluate your home.
For those that wish to view your home in person, we are providing instructions for buyers to remove their shoes and to not touch anything in the home or use bathrooms. We are also asking buyers that have been exposed to COVID-19 to request a virtual showing.
We have options of having a 3D virtual tour done of your home so that many buyers wanting to look at your home can see it without ever having to enter. Buyers are growing more familiar every day with the idea of evaluating homes using this method. This is also where stunning professional photography pays off!
Step 6: Electronically Sign Offer
Fortunately, we have been using digital contracts for some time, so this step is nothing new to us. We will then email over any offers we receive, and we will call to discuss them with you. We will be there to go over the offers, explain key terms, and provide recommendations. Once you have fully evaluated any offers, you can choose to accept, decline, or counter. All communication is done via phone, email, or video conference.
Once a suitable offer is chosen and negotiations are complete, you will be able to sign the contract using DocuSign.
Step 7: Inspection
Once your contract is executed, the buyer's agent will use the same service used for showings to schedule time for the inspection. Similar to when our photographer visits, we recommend that you maintain proper social distancing while your home is being inspected.
After the inspection, we will stay in close communication, informing you of any repair requests that come from the buyer and advising you in your negotiations.
Step 8: Closing
Whereas you would normally go sit down with your title escrow officer to complete your closing paperwork, we are working with title companies that are taking innovative approaches to make closing day safer for you.
Many of our preferred title companies have created a process for "Curbside Closings." Simply call when you pull up to their office, and they will bring out your paperwork, then return to their office where they will connect over video chat to walk you through each specific document. A remote virtual notary will join to verify your identity and signatures, ensuring that the process is completed in an efficient and safe manner.
They also have the option of doing a completely virtual closing called, RON. In this case, from practically anywhere with video conferencing capabilities and specific credentials, the title company and virtual notary can help you close on your property.
The Real Estate Market is HOT right now! Properties are going live online and going under contract, some in a matter of days and even hours. We are taking safety precautions for the world we are living in today to keep everyone safe and healthy and helping Make a Difference for our clients that are moving during this time.
If you have any questions about our Virtual Home Selling Guide or would like to talk in greater detail about how our listing process is changing to accommodate your needs in this more virtual world, please call us at 817-266-2816. We understand that every situation presents its own unique challenges, and we're prepared to guide you through them.